KIA EV6 Gloucester launch - October 2021.
I went to the launch of this car yesterday. All flashing lights and near choking level smoke!
I bought my Qashqai from approximately where the desk on the right is - I think they'd taken over part of the Nissan section since the KIA area is more "downmarket"!
The car in the showroom was a pre-production one and not in an exact UK trim level.
All very interesting. It had its pros and cons.
Pro - great grey satin paint finish!
Cons - horrendously complicated detailing in places - particularly under the front and rear bumpers which are going to be hell to keep clean! Very shallow boot too (not pictured).
You can't see what I'm on about in this view since it's so low down - look at this internet image: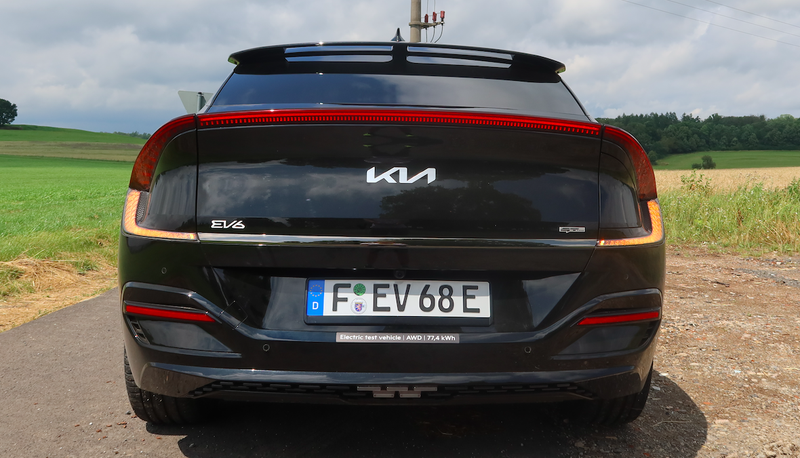 Pro - GORGEOUS rear lights including sweeping indicators (not shown):
Pro - generally very nice interior with some lovely detailing:
... except the fascia and central glovebox patterned "very low rent" plastic trim.
Pro and Con - reasonably sized frunk (on this rear wheel drive version) but awfully executed!
Compare the one in a Tesla 3:
Pro - we got a notebook, pen and box of "calories":
So the big question - would I buy one of these rather than a Nissan Ariya, Tesla 3 or Hyundai Ioniq 5?
To be frank I probably won't be buying such a big car again - and the EV6 IS big! And I haven't been inside an Ioniq 5 yet.
I'm more likely to get a "2" version!
I do really like my brother's Tesla 3, and if I was in the market for one of these cars, that would probably still be at the top - if it wasn't for the lack of a hatchback.
If forced to choose between the three hatchbacks I'd probably rank them thus (bearing in mind very limited experience of the Ariya):
Ioniq 5 then Ariya close behind, then EV6 a bit more distant. It's a good car but the detailing really goes over the top in places.
Postscript:
This wasn't a series production car but it was rather worrying when someone found they couldn't open the driver's door from the inside - pulled the handle several times and nothing happened - but the salesman could open the door simply by operating the external handle. Though it worked for me subsequently.
Just had the lemon cupcake before posting - delicious!